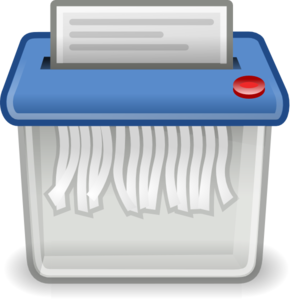 Paper shredders aren't something most people purchase more than once or twice in a lifetime. With such a wide range of prices and features, it can be overwhelming to decide which model is best for you. The guide below will walk you through the steps for choosing the right paper shredder for your home or office.
Cut
The cut of a shredder refers to what happens when you put paper into the feeder of the machine. The type of cut you need will depend on what you are shredding and the security level your company requires. Click here for a cut guide.
Location
Selecting a spot for your shredder will help to determine the size you need. Does it need to fit under a desk or is it going in a large area next to your commercial printer? If space is not an issue, a larger bin will hold more paper and require less time emptying the machine. Machines also have various noise levels so if you are putting the shredder in an open office, consider choosing one with a lower decibel rating.
Sheet Capacity and Running Time
Smaller, home-office models typically only handle a few sheets of paper at a time and require longer periods of time in-between uses to cool down. A commercial shredder will shred more sheets at a time and can be used continuously for longer periods of time.
Materials to be Shredded
Some shredders are designed to handle more than just paper. Higher end models can destroy credit cards and CDs with sensitive as well.
Special Features
Some models have safety sensors that automatically stop the machine with a hand or object gets too close to the blades. Another bonus feature to consider is the technology that helps avoid frustrating paper jams.
If you're still unsure of which shredder is right for your office, use the Fellowes shredder selector tool or contact the Keeney's customer service team for more assistance.